Actress & Author Felicia Day wants YOU to EMBRACE YOUR WEIRD!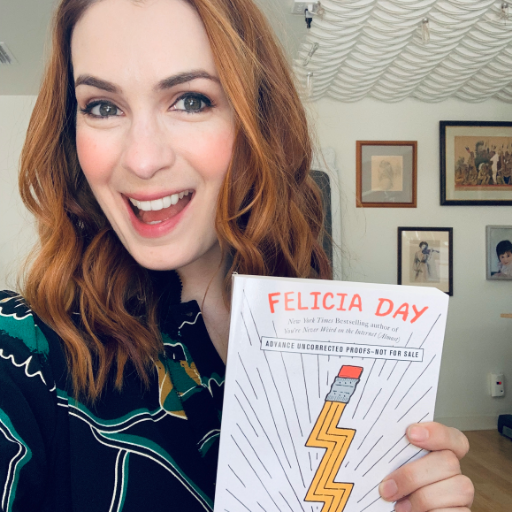 Felicia Day is a professional actress who has appeared in numerous television shows and films, including The CW show "Supernatural", and the SyFy series "The Magicians".
However, Felicia is best known for her work in the web video world, behind and in front of the camera. She co-starred in Joss Whedon's Internet musical "Dr. Horrible's Sing-Along Blog," which was ranked in the "Top 10 Best TV of 2008" by Time Magazine, Entertainment Weekly and People Magazine and won an Emmy in 2009. She also created and starred in the seminal web series "The Guild," which ran for six seasons. "The Guild" won numerous awards for web video excellence, garnering a PGA nomination for best web series in 2011. She expanded the brand into numerous merchandising opportunities, including a hit comic book series with Dark Horse Comics. Recently, costume and props from the show were admitted to the Smithsonian American History collection as examples of early web media pioneering.
In 2012 Felicia created a funded YouTube channel and production company called Geek & Sundry. Since launching in April 2012, the channel has garnered over 1.7 million subscribers on YouTube, and over 30k on the live streaming platform Twitch. In 2014, the company was sold to Legendary Entertainment.
Felicia called in to the Magic Morning Show today to tell Gino all about her NEW Book, Embrace Your Weird.
In Embrace Your Weird, Felicia threads personal anecdotes and plenty of personality through a practical, hands-on guide to finding, rekindling, and enhancing creative passions. Part guided journal and part imaginative workbook, the book covers topics including:
Discovering Your Hero Self – Our one-of-a-kind personal perspective is what makes us special. From unearthing childhood delights to poking around in the present, readers will take stock of what unique ideas and interests makes them "weird" – and how this weirdness can be wielded as a superpower.
Vanquishing Enemies – Negative forces and nay-saying voices come from both inside and out. From anxiety, criticism, and regret to perfectionism, procrastination, and fear of failure, step-by-step strategies will help readers confront and conquer these threats to creativity.
Gathering Allies – Creating is often solitary and occasionally scary. Felicia offers tips to cultivate a creative community, set up a network of supportive friends, and fully engage with mentors (and mentees!).
Finding Joy – Playfulness is the root of all creation. Sometimes letting yourself be silly – or even bored – will give your brain room to stretch, explore, and spark ideas.
Starting a Quest – Sticking to daily creative habits primes us to be ready to work when we turn our eye to bigger goals. Felicia stresses the importance of clearing room in life to show up, put the time in, and finish the job.
Click below to listen to the interview and make sure you pick up your copy of Embrace Your Weird today wherever books are sold!
Please visit FELICIADAY.COM for more info on Embrace Your Weird and all the other projects Felicia has worked on!
https://www.conwaymagic.com/wp-content/uploads/2022/08/conway-magic-logo-300x216.jpg
0
0
Gino
https://www.conwaymagic.com/wp-content/uploads/2022/08/conway-magic-logo-300x216.jpg
Gino
2019-11-01 07:40:09
2019-11-01 07:19:08
Actress & Author Felicia Day wants YOU to EMBRACE YOUR WEIRD!