APRIL FOOLISHNESS with The White Mountain Independents!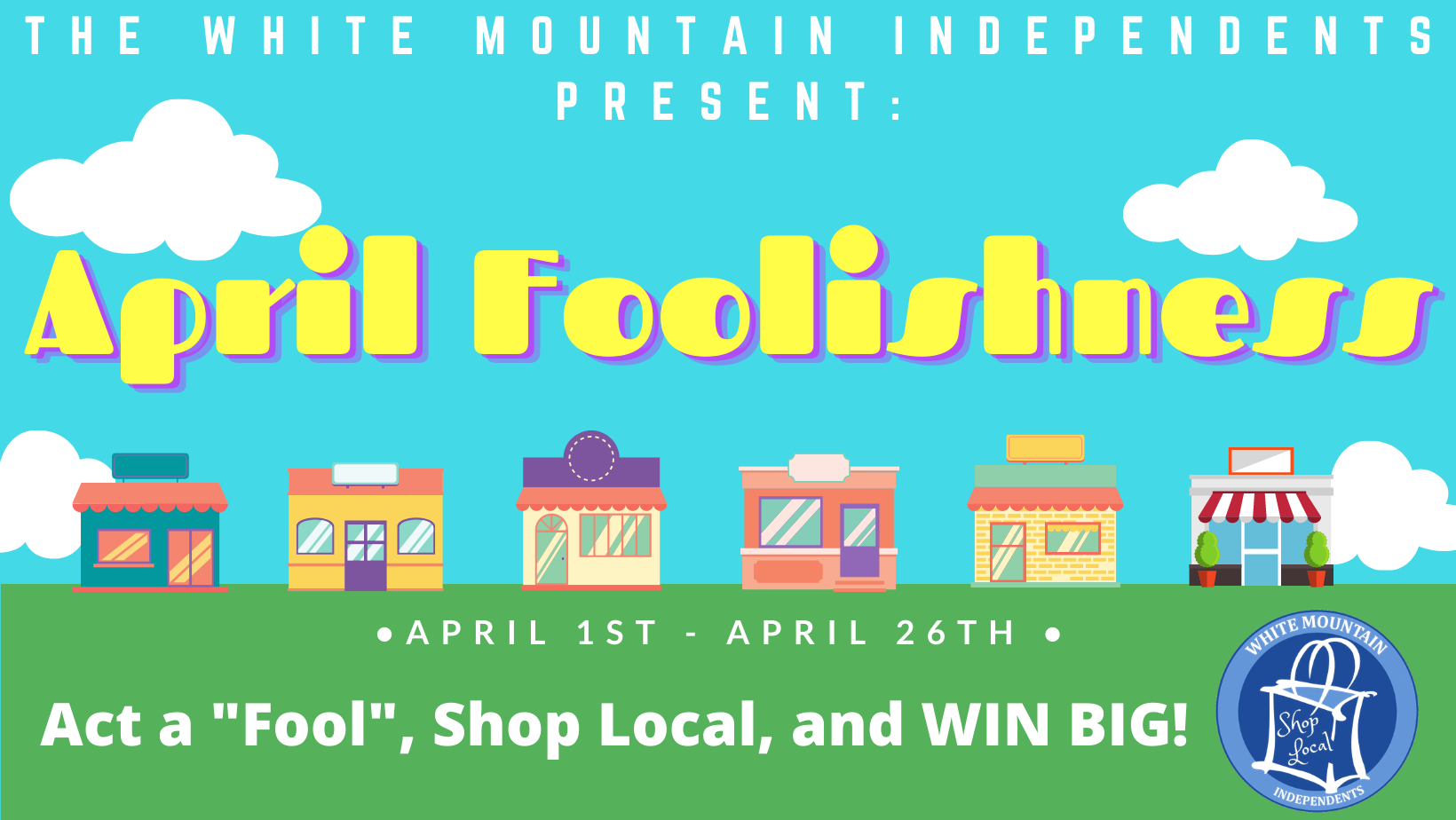 It's time to get FOOLISH!
Magic 104 and The White Mountain Independents have teamed up once again and are looking for you to hit the streets, have some fun, and WIN BIG!
From NOW through April 26th – Tune in to Gino and the Magic Morning Show each weekday for a set of daily clues to find out which White Mountain Independent Store is the STORE of the DAY… once you figure it out, make sure you head out to that store before the 26th and take an original 'FOOLISH PICTURE' or 'SILLY SELFIE' inside the store!
Then send it over to GINO@CONWAYMAGIC.COM . Each time you do this – you'll receive one entry for the GRAND PRIZE. Now it's only one entry – per store – per person…meaning the more stores you "Act a Fool" in and take photos the more chances you have to win!

And what is this GRAND PRIZE you might ask…
A WHITE MOUNTAIN INDEPENDENT GIFT PACKAGE WORTH OVER $1,000!
Check out this PRIZE LIST…

PRIZE LIST:
Bavarian Chocolate Haus – $50 gift certificate + box of chocolates.
The Christmas Loft – 17" Kurt Adler Santa w/ Gifts figurine.
Designed Gardens – A gift bag with a $25 dollar gift card and a botanically infused candle with long stem matches with art print.
Fields of Ambrosia – CBD Gift Box. Includes 2oz Muscle Balm, 1oz Maple Flavored Tincture and 2 Bath Bombs.
Four Your Paws Only – StarBark's Dog Bowl & Place Mat set, a Farmhouse Style Dog Biscuit Canister, and a bag of Honest Kitchen Goat Milk & Blueberry cookies.
It's My Girlfriend's Consignment Boutique – INIS "voyager" gift set which includes travel size cologne, hand cream, body lotion and shower gel and a $20 gift certificate.
North Conway Olive Oil Co. – Paring #1 Gift Box: a collection that includes Garlic Infused Olive Oil, Sicilian Lemon Balsamic Vinegar, a dipping dish, basting brush, tapi bottle topper for the vinegar, and spout for the olive oil.
The Penguin Gallery – 1 bracelet and 2 necklaces: Rose gold Mantraband, Hand-blown glass jellyfish necklace, Hand-made wooden moose pendant /necklace.
Ragged Mountain Equipment – "Moose NH" and "Bear NH" Polartec 200 Fleece Throws.
RavenWood Curio Shoppe – A small, cool aggressive Moose Sculpture by R. Knolb, Yard Birds U.S.A.
The Rugged Mill – a Mary Meyer stuffed animal moose, a puppy Love T-shirt size Large, 4 Bear Coasters, and a "Ski Badge" puzzle.
Soyfire Candle Bath & Body – $50 gift certificate.
Spruce Hurricane – A Brighton, leather wrap bracelet with silver plated and enamel beads where you can add or remove the beads for different looks. It can also be worn as a bracelet or a necklace.
Valley Artisans & Vintage Market – Hannes Schneider Ski School sign (reproduction) made locally in Bartlett, Hobnail milk glass covered dish by Fenton, and a Maple candy moose.
Veno's Specialty Foods & Meats – $50 Gift Card
White Birch Books – White Birch Books Tote bag, a White Birch Books sticker, the new Lisa Gardner novel, and a Book Club journal.
White Mountain Winery – 19oz Stem Wine glass that says "Dogs and Wine Best Therapy in Town", a 4oz Cordial Stemless glass with the WMW logo, a T-shirt With the "Dogs and Wine" Logo, a Frappe Vino Slush mix, 2 Wine Magnets with various sayings, Miscellaneous Winery Swag (pen, magnets, stickers, opener), and a Gift Certificate for $25.00 to be used in the shop within 1 year.
1 Lucky Listener will WIN IT ALL!

The winning announcement will be made Monday, April 26th at 8:10am.
Until then listen to the Magic Morning Show each day for the "Store of the Day" and keep sending your foolish pics and remember the sillier the better!
A complete list of The White Mountain Independent Stores can be found at WHITEMOUNTAININDEPENDENTS.COM
https://www.conwaymagic.com/wp-content/uploads/2022/08/conway-magic-logo-300x216.jpg
0
0
Gino
https://www.conwaymagic.com/wp-content/uploads/2022/08/conway-magic-logo-300x216.jpg
Gino
2021-04-01 04:40:59
2021-04-01 04:45:35
APRIL FOOLISHNESS with The White Mountain Independents!