Bernerhof Inn and American Legion Post 46 are Offering FREE Thanksgiving Meals to Those in Need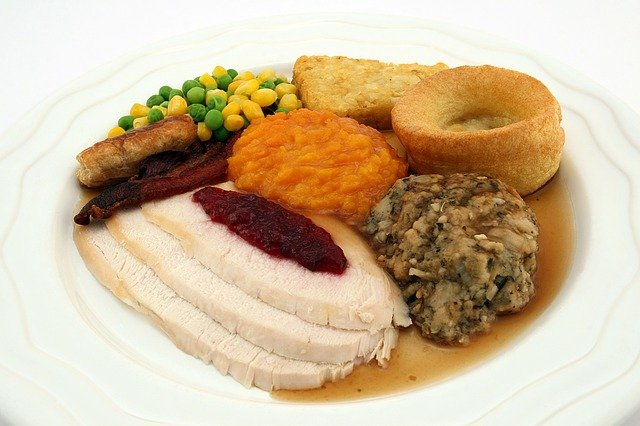 GLEN, NH — Nick Panno, owner and innkeeper of The Bernerhof Inn, announced the inn is once again offering a free Thanksgiving meal to go to anyone in need who seeks a hot turkey day feast. The meals will be offered for curbside pick up from 12pm – 2:30pm on Thurs., Nov. 26, 2020.
Nick bought the Inn in 2019 and brought the tradition to the Bernerhof starting last Thanksgiving when they fed over 100 people – from veterans to seniors to families. Panno stated, "Whether an individual is alone, homeless, visiting a loved one at the hospital or nursing home … no matter what the reason, everyone is welcome to pick up a hot meal."
Thanksgiving dinner including roast turkey and all the fixings will be served. No reservations or advance orders are necessary. Due to COVID-19, this year's free Thanksgiving meal is being offered to go, not at the Inn as was done in 2019.
For more information, contact Nick Panno at 603-383-4200. The Inn is located on Route 302 in Glen, NH.
CONWAY — As in years past, American Legion Post 46 in Conway Village has been busy this week, creating free turkey Thanksgiving dinners. The difference is that due to pandemic guidelines, there will not be a sit-down dinner at the post come Thursday — only delivered meals and curbside pickups, said Post 46 Sons of the American Legion Commander Rick Breton.
The meals — consisting of roast turkey, stuffing, mashed potato, butternut squash, glazed carrots, gravy, a roll and slice of pie — will be available at no charge on Nov. 26 from noon-4 p.m. for curbside pickup and takeout, at Post 46, Breton said — as long as supplies last.
"We'll have the dinners ready until we run out of food," said Breton on Tuesday as his team of Legion volunteers worked to prep the meals.
Post 46 is located at 47 Tasker Hill Road. People can order a turkey dinner by calling Post 46 at (603) 447-3927. For more information, follow American Legion Post 46 on Facebook.
https://www.conwaymagic.com/wp-content/uploads/2022/08/conway-magic-logo-300x216.jpg
0
0
Gino
https://www.conwaymagic.com/wp-content/uploads/2022/08/conway-magic-logo-300x216.jpg
Gino
2020-11-25 06:57:20
2020-11-25 06:57:23
Bernerhof Inn and American Legion Post 46 are Offering FREE Thanksgiving Meals to Those in Need