Cabaret (1998 version) Click here for cast announcement
Book by Joe Masteroff, music by John Kander, and lyrics by Fred Ebb. Based on the play I Am A Camera by John Van Druten, which was adapted from the novel Goodbye To Berlin by Christopher Isherwood.
July 7 – 24
Directed by Mark Sickler
There was a Cabaret and there was a Master of Ceremonies and there was a city called Berlin in a country called Germany and it was the end of the world. And I was dancing with Sally Bowles and we were both fast asleep. It's a new decade, with a new era on the horizon. American writer Cliff Bradshaw, newly arrived finds himself swept up in the seedy, liberating, and heady nightlife of Berlin, a city and a country sitting on a powder keg of political upheaval. Based on the play I Am A Camera, which is based on Christopher Isherwood's famous novel, Goodbye To Berlin, this Kander & Ebb musical masterpiece features such unforgettable hits as "Willkommen", "Money", and of course, "Cabaret". Leave your troubles outside, and join us at the Kit Kat Club this July.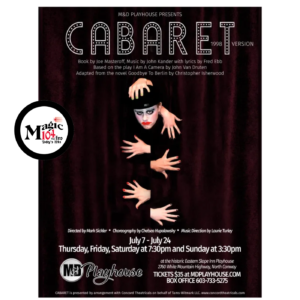 https://www.conwaymagic.com/wp-content/uploads/2022/08/conway-magic-logo-300x216.jpg
0
0
Clay Groves
https://www.conwaymagic.com/wp-content/uploads/2022/08/conway-magic-logo-300x216.jpg
Clay Groves
2022-06-30 15:14:47
2022-08-25 18:57:18
Cabaret at MD Playhouse