CORONAVIRUS OR NOT, WE LOVE OUR PETS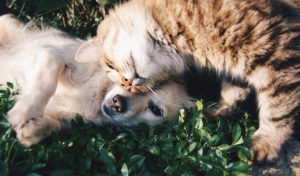 What happens when your pet gets sick? The real question is, what do we do in a crisis like this?
Fryeburg Veterinarian Dr. Susan Simpkins says: "We're seeing all the normal things that we would see; allergies start to tick up this time of year, GI issues, we're seeing a lot of porcupine quills I think probably people are getting out there with their dogs, hiking." With the importance of social distancing, pets of course allowed into the Fryeburg Veterinary Hospital but owners remain in their cars and the consults are done by phone. Dr. Simpkins goes on to explain: "Veterinarians and technicians work together to, you know, get an exam done and assess the animal, we then call the owner by phone, the veterinarian does, and discusses what we found in the exam and any recommended treatments." She goes on to explain that it may take a few phone calls back and forth to truly understand what's going on and determine the right treatment for the animal based on the conversation between the doctor and the animal owner.
Fryeburg Veterinary clinic is currently taking orders for medications, seasonal preventatives and prescription diets while still practicing social distancing. All deliveries are done curbside.
As the weather warms up, Dr. Simpkins urges you to protect your pet through the spring season and consider visits and or treatments for heartworm, fleas and ticks and other seasonal parasites.
Visit Dr. Simpkins and her veterinary family at FryeburgVet.com.
https://www.conwaymagic.com/wp-content/uploads/2022/08/conway-magic-logo-300x216.jpg
0
0
Gino
https://www.conwaymagic.com/wp-content/uploads/2022/08/conway-magic-logo-300x216.jpg
Gino
2020-04-23 16:22:14
2020-04-24 09:38:06
CORONAVIRUS OR NOT, WE LOVE OUR PETS