DENTAL OFFICES GIVEN THE GREEN LIGHT TO REOPEN IN NEW HAMPSHIRE: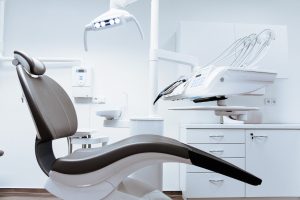 Most dental offices in the state shut down voluntarily in March except for emergency visits because of the risk of COVID-19 and its unknown factors. They've now been given the green light to reopen in New Hampshire. In previous discussions with the governor, he spoke about the invasive nature of dentistry and that he was working with individuals all over the industry in New Hampshire to create guidelines for safety and what may be mandated for patients and staff for them to reopen safely. That day is here.
Governor Sununu announced today that dentists' offices will be allowed to reopen in New Hampshire if they wish to do so beginning Monday. There are now guidelines in place to reopen with safety precautions in place. Governor Sununu shares the cooperation that went into making the decision to open this business category: "This was vetted and approved by the Department of Public Health. It has stakeholder buy-in from folks across the industry, whether it be dental hygienists, oral surgeons, a variety of folks really came together, especially over this past week, working with our reopen New Hampshire task force to create a document working with the public health, gives, I think, a lot of folks of competence as we go forward to make this opportunity available to the citizens."
Last week alone there were thousands of online requests for millions of masks, part of the PPE help coming to help reopen businesses in New Hampshire. The governor spoke about New Hampshire's current orders for masks and says they're steadily coming in. He says, "The state is working directly with the dental offices themselves to offer assistance in securing PPE, to that they and their patients can work in a safe environment."
When asked, Health Commissioner Lori Shibinette said the guidelines are specific to keeping everyone that may be working or visiting a dental office safe and if there were any reason for concern about an outbreak of COVID-19 health officials would issue and alert.
Patients should be in touch directly with their own dentists and see when their individual offices will open.
For more information on the dental industry guidelines, please visit nh.gov.
https://www.conwaymagic.com/wp-content/uploads/2022/08/conway-magic-logo-300x216.jpg
0
0
Shannon Kelter
https://www.conwaymagic.com/wp-content/uploads/2022/08/conway-magic-logo-300x216.jpg
Shannon Kelter
2020-05-08 17:16:35
2020-05-08 17:16:35
DENTAL OFFICES GIVEN THE GREEN LIGHT TO REOPEN IN NEW HAMPSHIRE: