DICK FICKE- A WHITE MOUNTAIN TREASURE- LEAVES THE VALLEY WITH A LEGACY OF SERVICE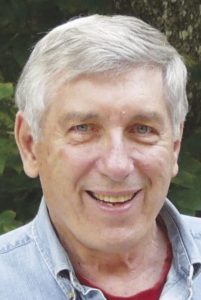 If you ever met Dick Ficke, the first thing you'd notice was his kind eyes. After a conversation, you'd look back and realize how very interested he was in everything you had to say- this already brilliant man took the time to truly listen and learn whatever he could from what you had to contribute to the conversation. He really cared and you knew it. He will always be remembered as one of the good guys. This Colgate alumni and decorated retired Air Force Officer is going to be sorely missed.
Richard "Dick" Ficke of Bartlett passed away on April 20th at Maine Medical Center from from Kidney and heart failure complications. Dick was Born April 5, 1937 in Danbury, Connecticut. He met Annie in 2001 and they moved to the Mount Washington Valley.
Dick was passionate about the charities he served such as: Kiwanis Club of MWV, past president and Kiwanian Of The Year and Kiwanian District Lt. Governor. He was the president of the MWV Habitat for Humanity, SCORE's Chapter Chair and his most cherished post-retirement role, "Head Elf" of Angels and Elves.
2013 brought Dick the title of one of the White Mountain Treasures and that year he was also awarded with the SCORE Leadership award. Two years later he was named the volunteer of the year by the Mt. Washington Valley Economic Council.
In lieu of flowers, Dick asked that contributions be made to: MWV Habitat for Humanity, Kiwanis or Angels and Elves.
A military viewing and and Honors ceremony will be held in Newport, RI and a celebration of his life will be held later in the summer in Bartlett.
https://www.conwaymagic.com/wp-content/uploads/2022/08/conway-magic-logo-300x216.jpg
0
0
Shannon Kelter
https://www.conwaymagic.com/wp-content/uploads/2022/08/conway-magic-logo-300x216.jpg
Shannon Kelter
2020-04-24 12:23:26
2020-04-24 13:56:06
DICK FICKE- A WHITE MOUNTAIN TREASURE- LEAVES THE VALLEY WITH A LEGACY OF SERVICE