Fast-casual Burrito Brand, Chipotle, is Opening a Restaurant in North Conway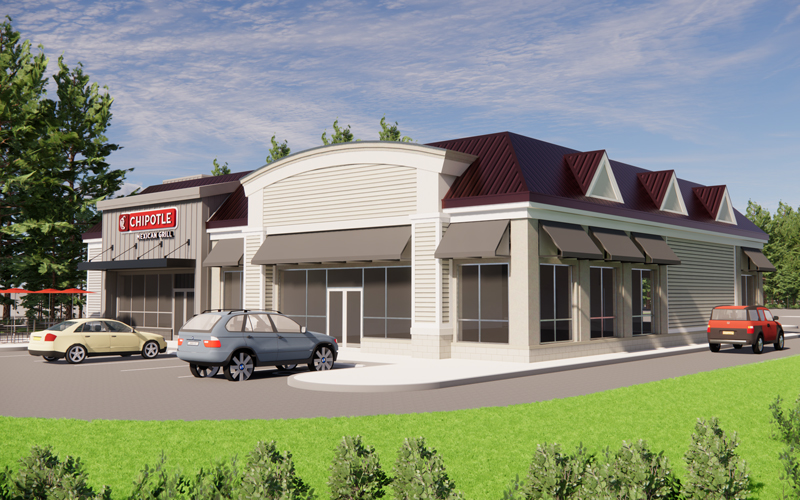 North Conway, NH – Chipotle Mexican Grill is opening a 2,548 square foot restaurant in North Conway, featuring a mobile order pickup drive-thru, 45 seat dining room and outdoor patio dining area. The restaurant is part of a 5'875 square foot commercial site being developed by OVP Management, Inc. on Route 16 in North Conway.
Chipotle is an international fast-casual restaurant chain serving responsibly sourced, classically-cooked Mexican fare including burritos, bowls, tacos and salads. Founded in 1993 by Steve Ells in Denver, Colorado, the company is a longtime leader and innovator in the food industry. The original technique and service style were borrowed from taquerias in San Francisco, which served Mission-style burritos. Chipotle was an early adopter to the open kitchen, and one of the first fresh, fast food chains that grew substantially in the mid-2000s. Chipotle has more than 2,000 locations worldwide including Canada, United Kingdom, France and Germany.
The company's latest innovation is the mobile order pickup drive-thru, branded as Chipotlanes, which were introduced in 2018 and are now being included in more than 60% of all new Chipotle restaurants, including the North Conway restaurant. Chipotlanes have an entire team and kitchen devoted to digital orders in addition to the walk-in dining area.
The building located at 1549 White Mountain Highway has been designed by Cambridge, Massachusetts-based architecture firm Prellwitz Chilinski Associates, Inc. Site work is under way by local contractors including Gordon T. Burke & Sons, Rotten Rock Concrete, and CBI Construction. Chipotle is scheduled to open Summer 2021. Up to 3,500 square feet of prime leasing space remains available. To learn more, contact Rob Barsamian at 617-965-9700, ext. 13.
https://www.conwaymagic.com/wp-content/uploads/2022/08/conway-magic-logo-300x216.jpg
0
0
Gino
https://www.conwaymagic.com/wp-content/uploads/2022/08/conway-magic-logo-300x216.jpg
Gino
2020-10-20 12:21:52
2020-10-20 12:22:23
Fast-casual Burrito Brand, Chipotle, is Opening a Restaurant in North Conway