MIDNIGHTPULP.COM Presents: 80's Scream Queen Kelli Maroney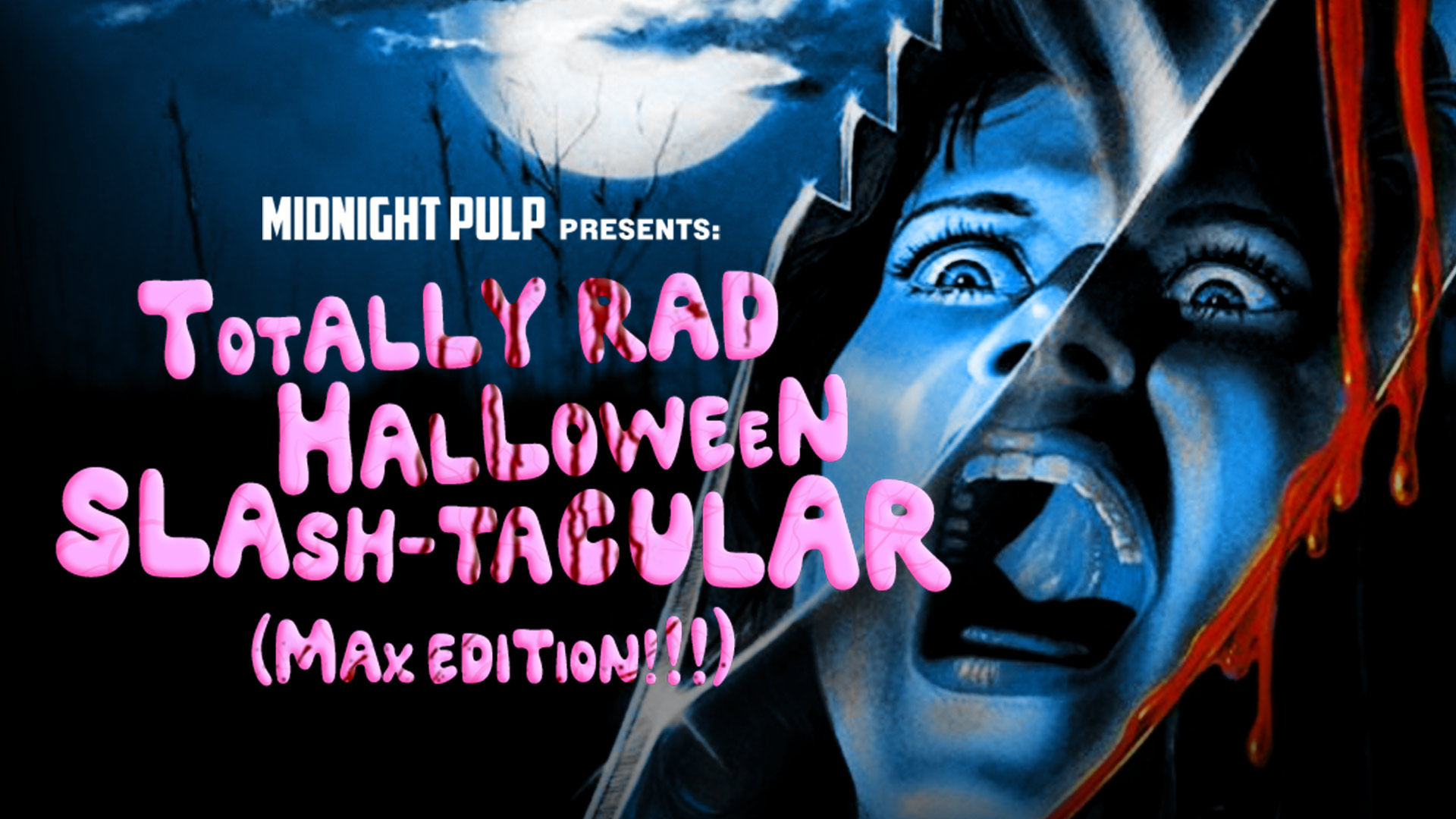 This Shocktober, genre streamer MIDNIGHT PULP unearths a timelessly terrifying collection of '80s horror classics with the TOTALLY RAD HALLOWEEN SLASHTACULAR – MAX EDITION!!! Chock full of chills and thrills, the hand-picked selections offers genre fans a gore-nucopia of things to keep them up at night, including some fan favorites from Arrow Films, such as DOOM ASYLUM, MICROWAVE MASSACRE, RE-ANIMATOR and BRIDE OF RE-ANIMATOR, CONTAMINATION and MORE! TOTALLY RAD HALLOWEEN SLASHTACULAR – MAX EDITION!!! is available now, exclusively at MidnightPulp.com.
After the '70s ushered in a decade of theatrical horror for the masses, the '80s spawned a slew of horror franchises, featuring "buckets of blood, terrorized teens, thousands of imaginative ways to die and just the right amount of cheese" (Amy Skorheim, Gearmoose), and Midnight Pulp celebrates this demented decade in unforgettable fashion, featuring a murderer's row of compulsively watchable films guaranteed to have you crowing with delight! And while most of the TOTALLY RAD HALLOWEEN SLASHTACULAR – MAX EDITION!!! is available to horror lovers through a no-charge AVOD freemium model, some of the films highlighted – too gory for prime-time — are part of PULP+, an ad-free premium subscription starting at $4.99, which offers select exclusive releases, special features and more.
80's Scream Queen Kelli Maroney joined Gino on The Magic Morning Show earlier today to not only talk about MIDNIGHTPULP.COM but to also just talk 80's Horror Genre, what it's like to be in a Horror Movie, what she did to "play scared", and how the Horror genre has changed over time. Listen to the interview now!
Kelli first got her big break in Daytime TV, both as the evil adolescent Kimberly in RYAN'S HOPE and then as vengeful Tina in ONE LIFE TO LIVE. Her film debut as the 'Spirit Bunny' Cindy Carr in FAST TIMES AT RIDGEMONT HIGH caught a lot of attention, but Kelli achieved her greatest enduring cult popularity with her delightful turn as the endearingly spunky Samantha in the science-fiction end-of-the-world NIGHT OF THE COMET. She's especially memorable as the sweet, killer-robot slayer Alison Parks in the entertaining romp, Cult Classic CHOPPING MALL, Jamie, a strong female survivor in THE ZERO BOYS, as well as many other films.
On a more serious note, Kelli delivered a very strong and impressive portrayal of schizophrenic femme fatale Meredith (Merre) Lake in the superior Showtime mystery Noir thriller FACE DOWN. Maroney acted in and co-produced the award-winning festival short SAM AND MIKE. She has made numerous TV guest star appearances.
More recent Kelli has been seen as a crazed TV evangelist in HBO's TRUE BLOOD, a tipsy stage mom-from-hell in POP STAR, the brave 'cougar,' Sheriff Wilma in GILA! THE GIANT MONSTER, Psychic Ezmerelda in the web's HELL'S KITTY, and other web productions. Additionally, she appeared in the recent definitive '80s horror documentary, IN SEARCH OF DARKNESS.
Kelli can often be seen on-stage throughout the Los Angeles area. Currently, she's the host of SMTCL-TV, co-host of the podcast RICK'S MARTINI BAR, and has several Film and Television projects in various stages of development and production.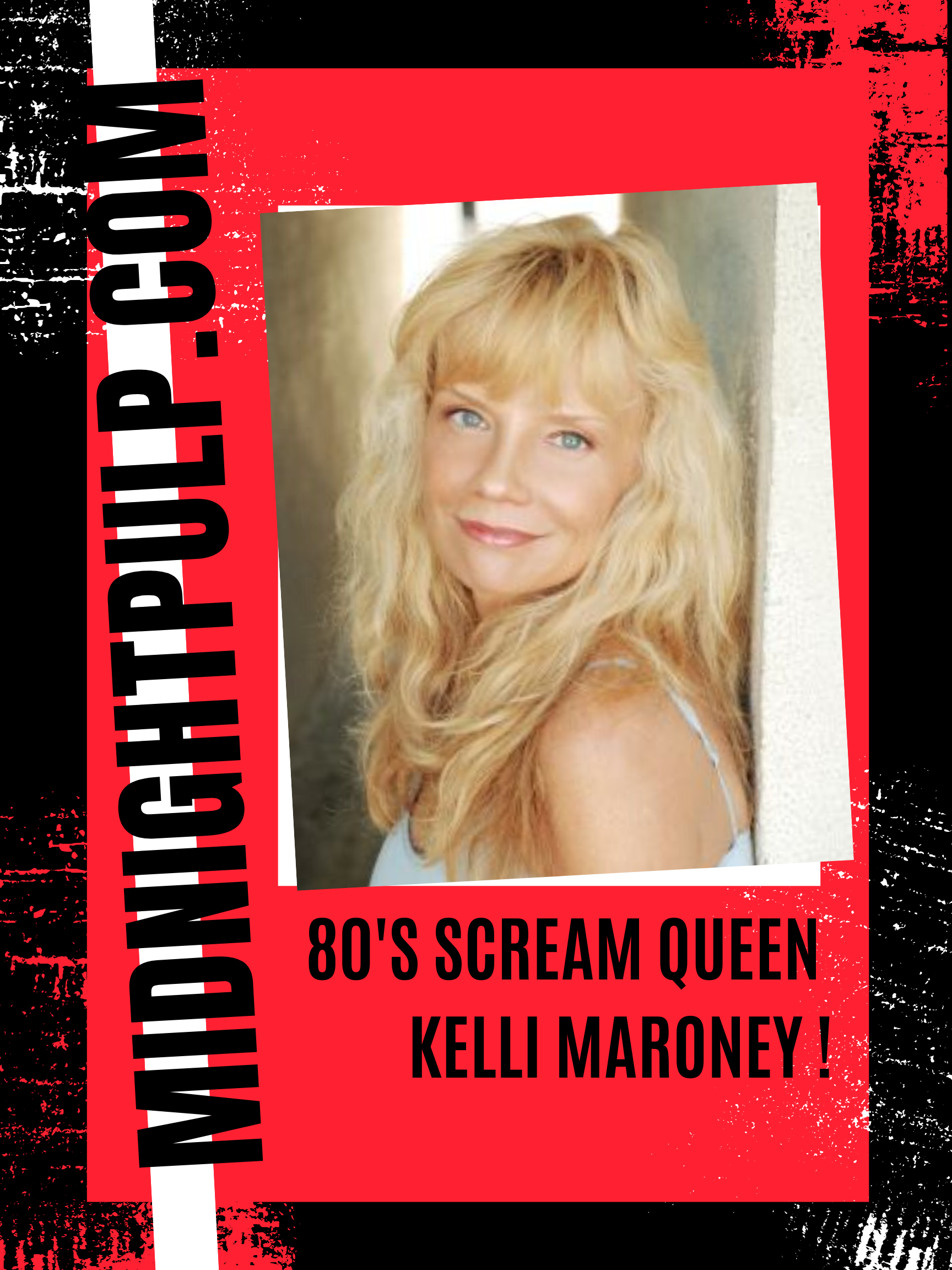 TOTALLY RAD HALLOWEEN SLASHTACULAR – MAX EDITION!!! free AVOD selections include:
● BRAIN DAMAGE – From Frank Henenlotter, the man behind cult horror favorites like Basket Case and Frankenhooker, comes BRAIN DAMAGE – the ultimate head-trip! Meet Elmer. He's your local, friendly parasite with the ability to induce euphoric hallucinations in his hosts. But these LSD-like trips come with a hefty price tag. When young Brian comes under Elmer's addictive spell, it's not long before he finds himself scouring the city streets in search of his parasite's preferred food source – brains! (US, 1988, 86 mins.)
● CONTAMINATION — A cargo ship drifts up the Hudson River. Its crew: all dead, their bodies horribly mutilated, turned inside out by an unknown force. Its freight: boxes upon boxes of glowing, pulsating green eggs. It soon becomes clear that these eggs are not of this planet, and someone intends to cultivate them here on Earth. But who? And to what end? Starring Italian horror veteran Ian McCulloch (Zombie Flesh Eaters), Contamination is an ultra-violent sci-fi epic that really gets under the skin. In space, no one can hear you scream – but on Earth, the terror rings loud and clear! (1980, 95 minutes)
● DOOM ASYLUM — When a group of horny teens wind up on the grounds of a creepy abandoned asylum, they think they've found the perfect place to party. Little do they know that inside the building's crumbling walls lurks a freakishly deformed maniac, driven to madness by the tragic loss of his fiancée in a car accident. With an array of grisly surgical tools at his disposal, it's only a matter of time before the youngsters begin meeting various splattery ends at the hands of the ghoulish Coroner. Helmed by director Richard Friedman (Scared Stiff and Phantom of the Mall: Eric's Revenge), and also starring Penthouse Pet of the Year 1988 Patty Mullen (Frankenhooker), Doom Asylum combines outlandish gore and a wise-cracking villain to create one of the most wildly entertainingly blood-spattered slashers of the late '80s.
● INSEMINOID – When a six-man, six-woman exploration team lands on a mysterious, remote planet to investigate the origins of a long-vanished civilization, they're met only by a silent, lifeless world. Unbeknownst to the interplanetary explorers, however, a strange alien creature has been waiting patiently in stasis for millions of years, biding its time until conditions are suitable to breed! (1981, 91 minutes)
● OFFERINGS — John Rudley (G. Michael Smith) is angry. When he was young, the local bullies pushed him to the brink. Ten years in a sanitarium is a long time. Now, after 10 years in a sanitarium, he's free — free to release those savage frustrations, free to avenge himself against his tormentors, and, in case anyone thought he was long gone. he can't wait to have them all wrapped up. Remember him, before he dismembers you in this late '80s slasher classic from director Christopher Reynolds. (1989, 94 minutes)
● RE-ANIMATOR — Conducting clandestine experiments within the morgue at Miskatonic University, scientist Herbert West (Jeffrey Combs) reveals to fellow graduate student Dan Cain (Bruce Abbott) his ground-breaking work concerning the re-animation of fresh corpses. West's secret reagent is a powerful injection with the capacity to give life where there is none –destined to capture the imagination of the entire scientific community. However between life and death is a thin thread of understanding and when obsession gets the better of West there is no stopping his wicked ways–dead or alive! Based on a story by genre writer H.P. Lovecraft, this beloved '80s classic was called "one of the greatest horror films ever made" by Entertainment Weekly. (1985, 105 minutes)
● THE FINAL TERROR — A group of young campers out for what they hope will be a fun-filled weekend find their plans spoiled by a disguised, merciless killer who stalks the forest in search of new victims. Soon they are caught in a terrifying web of bloodshed and murder. It is up to the remaining few to defend themselves and put an end to the terror-filled weekend. Featuring a great cast including Rachel Ward (The Thornbirds), Daryl Hannah (Kill Bill, Blade Runner), Adrian Zmed (Bachelor Party), Mark Metcalf (Zero Dark Thirty), Lewis Smith (Django Unchained) and Joe Pantoliano (The Matrix, The Fugitive) and directed by Andrew Davis (The Fugitive, Under Siege) this pulse-pounding film is the final word in backwoods horror. (1983, 84 minutes)
● THE SLAYER — For years slasher fans were desperate to get their hands on a copy of The Slayer, an elusive but beloved paragon of the genre. Two young couples set off to a secluded island for what promises to be a restful retreat. But the peace is short-lived: as a storm batters the island, troubled artist Kay begins to sense that a malevolent presence is here with them, stalking them at every turn. Is she losing her mind, or are her childhood nightmares of a demonic assailant coming to terrifying life? This HD restoration, previously only available on home video in truncated or full screen versions, is available to stream right here on Midnight Pulp. (1982, 80 minutes)
● THE ZERO BOYS — From cult director Nico Mastorakis (Island of Death, Hired to Kill), comes this genre-bending '80s classic with gruesome sequences that anticipate the torture porn horrors of Hostel and Saw. For a group of young friends, a weekend of survival games in the wilderness turns into a genuine battle of life and death when one of them turns up dead. Hunted by a bloodthirsty band of maniacs intent on slaughtering them one-by-one, the self-styled "Zero Boys" must now play their war games for real. Starring Kelli Maroney (Night of the Comet, Chopping Mall) and featuring an early score from the legendary Hans Zimmer (Inception, The Dark Knight Trilogy), THE ZERO BOYS mixes action, survival and all-out slasher movie elements in a thrilling horror yarn that falls somewhere between Friday the 13th and Deliverance. (1986, 89 minutes)
● UNINVITED – After a sinister corporation loses control of a house cat infected with a genetically engineered virus, it finds its way on board the yacht of a criminal kingpin and the death toll rises sharply during the mutant feline's rampage. George Kennedy, Clu Gulager and Alex Cord star in this killer kitty splatterfest that just might scare you out of one of your nine lives!
● WITCH FROM NEPAL – An architect's vacation to Nepal takes a turn for the supernatural in this terrifying action adventure starring legendary actor Chow Yun-fat (Crouching Tiger, Hidden Dragon, A Better Tomorrow.) Witches and cat demons abound when a mountain tribe gives him magical powers, and he soon finds himself forced to use his newfound powers to destroy an evil force in this Hong Kong genre classic. (1986, 94 minutes)
Premium PULP+ films include:
● ANGST – Photographed by legendary Oscar-winning Polish animator/ experimentalist Zbig Rybczynski and scored by Krautrock synth god Klaus Schulze (Tangerine Dream), ANGST is a stylized and shockingly visceral experience called "essential arthouse horror" by Film Comment. In this slasher classic, Erwin Leder (Das Boot, Schindler's List) plays a maniacal killer based on the real-life serial murderer Werner Kniesek. As he stalks through the bland Viennese countryside, the film's innovative first-person camerawork grabs viewers by the throat, never letting go. Directed by Gerlad Kargl, ANGST was banned in many countries for its graphic content. (1983, 87 minutes)
● BASKET CASE – The feature debut of director Frank Henenlotter (Brain Damage, Frankenhooker), 1982's Basket Case is perhaps his most revered – a riotous and blood-spattered midnight movie experience. Duane Bradley is a pretty ordinary guy. His formerly conjoined twin Belial, on the other hand, is a deformed, fleshy lump whom he carries around in a wicker basket. Arriving in the Big Apple and taking up a room at the seedy Hotel Broslin, the pair set about hunting down and butchering the surgeons responsible for their separation. But tensions flare up when Duane starts spending time with a pretty blonde secretary, and Belial's homicidal tendencies reach bloody new extremes in BASKET CASE, which has clawed its way from its humble origins to become one of the most celebrated cult movies of all time. (91 minutes, 1982)
● BRIDE OF RE-ANIMATOR — The success of Stuart Gordon's hit horror-comedy Re-animator meant that a sequel was all but inevitable. The resulting follow-up, BRIDE OF RE-ANIMATOR – this time helmed by director Brian Yuzna (Society, Return of the Living Dead 3) – would prove that there was a good deal more life left in the story of Dr. Herbert West and his ghoulish exploits. It is 8 years since the Miskatonic massacre. Unperturbed by the disastrous outcome of his previous meddling with the dead, Dr. West (again played by Jeffrey Combs) continues his research into the phenomenon of re-animation; only this time, he plans to create life – starting with the heart of his young protégé Dan's dearly deceased, Meg Halsey. Surely nothing could go wrong in this worthy successor to Gordon's original cult classic… (US, 1989, 97 mins.)
● CHOPPING MALL — High-tech robots equipped with state-of-the-art security devices have been recruited as the new mechanical night watchmen for the Park Plaza Mall. When a jolting bolt of lightning short circuits the main computer control, the robots turn into killbots.preying on unsuspecting shoppers, including a group of teenagers trying to cozy up in a mattress store after hours. This genre-bending cult hit, by celebrated genre director Jim Wynorski, stars '80s scream queen Kelli Maroney (Night of the Comet, The Zero Boys). (1986, 76 minutes)
● DEATH WARMED UP — Three years before Peter Jackson's Bad Taste, a young New Zealand filmmaker sprayed international movie screens with brains, blood and bizarre body fluids for the first splatter movie in Kiwi history. Director David Blyth launched his genre career with this relentlessly graphic – and still-intense- story of mad doctors, nude teens, psychotic mutants, shotgun murders, power drill lobotomies, explosive action and punk attitude that AXS.com calls "weird, wonky and one hell of a ride that will have gorehounds howling!" (184, 79 minutes).
● MICROWAVE MASSACRE – In this twisted '80s cult classic, a disgruntled construction worker, Donald (legendary stand-up comedian and actor Jackie Vernon), unwittingly stumbles upon a solution to his two major problems in his life – his nagging wife and his lack of decent meals – when, one night, he bludgeons his better half to death with a pepper grinder in a drunken rage. Thinking on his feet, Donald dismembers the body and sets about microwaving the remains–which turn out to be rather delicious. Trouble is, now he's acquired a taste for human flesh one serving can't satisfy. (1983, 76 minutes)
● NEXT OF KIN — Patrick Swayze (Dirty Dancing, Ghost) stars in this action-packed thriller as a dedicated Chicago cop with roots deeply embedded in the Appalachian backwoods. When the mob cruelly inflicts tragedy on his family, he is forced to put his loyalties to the test, and a violent clash of clans results. Co-starring Academy Award®-nominees Liam Neeson (Cold Pursuit) and Michael J. Pollard (Bonnie and Clyde), Ben Stiller (Zoolander 2, There's Something About Mary), Adam Baldwin (Wyatt Earp). (1989, 89 minutes)
● THE DEVIL'S HONEY — In perhaps his most rarely seen film, Godfather Of Gore Lucio Fulci takes on the erotic thriller genre and unleashes the ultimate onslaught of glossy depravity: Brett Halsey (Demonia, The Return of the Fly), Corinne Cléry (The Story of O, Moonraker) and Blanca Marsillach star in this insane S&M saga complete with sodomy, torture, torrid romance, and a jaw-dropping cavalcade of kink that Beyond Terror: The Films of Lucio Fulci calls "demented and hot.good sleazy fun and perhaps Fulci's last truly enjoyable film." Stefano Madia (Body Count), Bernard Seray (Hell of the Living Dead)
Midnight Pulp is available on the web, iOS, Android, Roku, Apple TV, Amazon Fire TV, Chromecast, Samsung Smart TV and additional platforms, and features thousands of streaming titles, with new titles programmed each week. Registered users can watch videos for free with commercials while premium subscribers can access the entire selection of titles without commercials, in addition to early releases, director's cuts and exclusive content.
For more information go to MIDNIGHTPULP.COM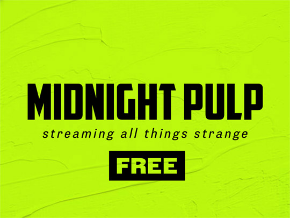 https://www.conwaymagic.com/wp-content/uploads/2022/08/conway-magic-logo-300x216.jpg
0
0
Gino
https://www.conwaymagic.com/wp-content/uploads/2022/08/conway-magic-logo-300x216.jpg
Gino
2019-10-29 08:37:58
2019-10-29 08:39:15
MIDNIGHTPULP.COM Presents: 80's Scream Queen Kelli Maroney