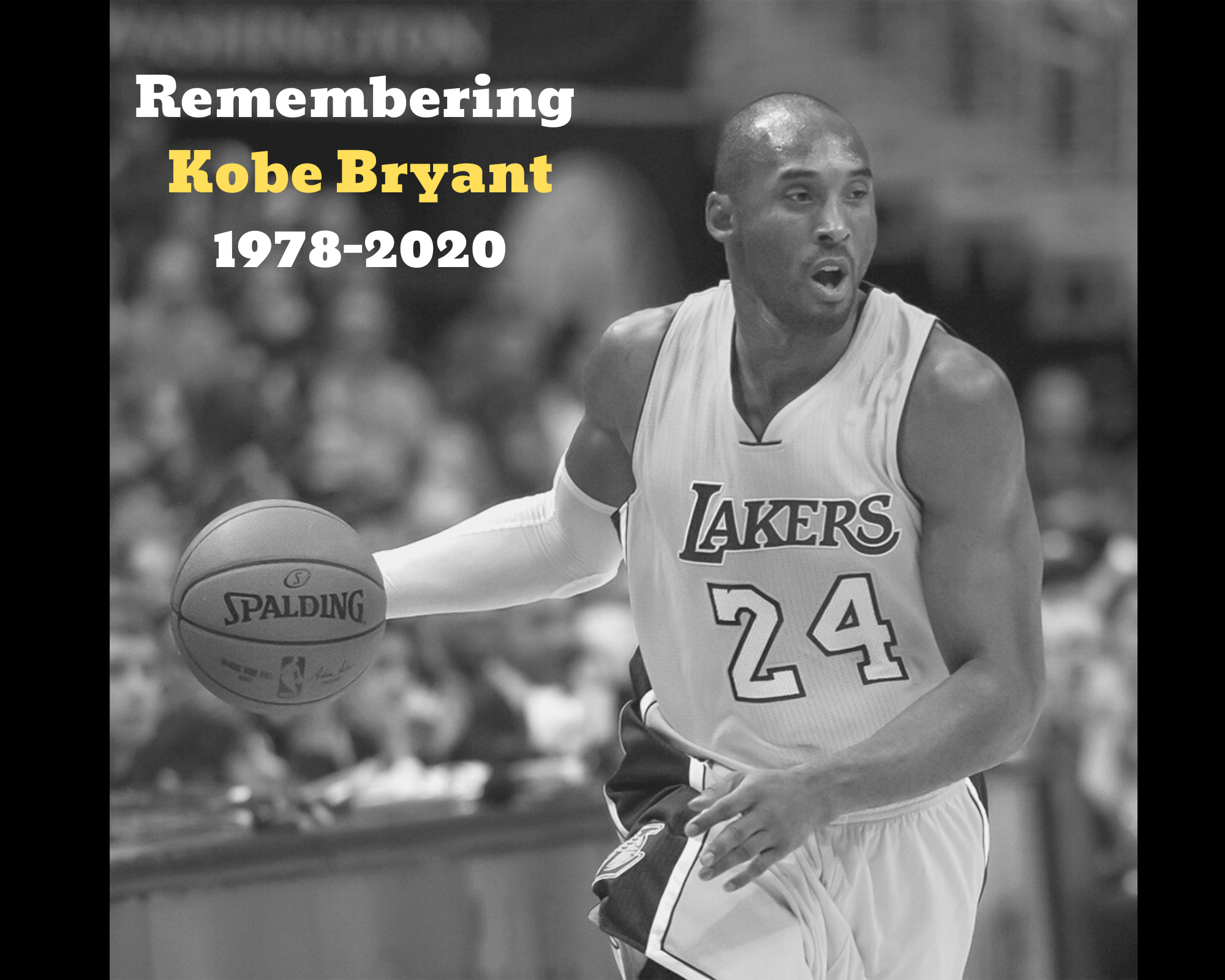 REMEMBERING KOBE BRYANT – (01/27/2020)
Celebrities reacted to the shocking and tragic death of NBA legend Kobe Bryant, who died in his private helicopter crash yesterday morning (January 26th) in Calabasas, California. He was 41. According to TMZ, Kobe's rep confirmed that his daughter Gianna Maria Onore was also on board the helicopter and died in the crash. She was 13. The two were on their way to the Mamba Academy for a basketball practice in Thousand Oaks. Seven others were also on board and they also perished in the crash.
Kobe Bryant is considered one of the top NBA players of all time. He made 18 All Star teams during his 20 year career with the Los Angeles Lakers. He was a first-round pick in the 1996 draft, winning five NBA championships, two NBA Finals MVPs and he was the league MVP in 2008.
He was on 15 All-NBA Teams, 12 All-Defensive Teams and led the league in scoring for two seasons. He ranks fourth place in the NBA for all-time regular season scoring and all-time postseason scoring. He also represented the US in several Olympics appearances, where he helped secure gold medals twice.
Kobe is the only player in team history to have both of his jerseys, numbers 8 and 24 retired.
At age 34, Kobe became the youngest player in NBA history to surpass the 30,000 point mark.
KOBE'S LAST TWEET & GRAMMY TRIBUTE
Meanwhile, Kobe's last tweet was praising LeBron James. He wrote on January 25th, "Continuing to move the game forward . @KingJames. Much respect my brother 💪🏾 #33644."
Last night (January 26th), during the Grammy Awards, host Alicia Keys opened the show with a tribute to Kobe with a performance of of "It's So Hard To Say Goodbye To Yesterday," with Boyz II Men.
CELEB REACTIONS
Michael Jordan: "I am in shock over the tragic news of Kobe's and Gianna's passing. Words can't describe the pain I'm feeling. I loved Kobe — he was like a little brother to me. We used to talk often, and I will miss those conversations very much."
Shaquille O' Neal: "There are no words to express the pain I'm going through now with this tragic and sad moment of loosing my neice Gigi & my friend, my brother, my partner in winning championships, my dude and my homie. I love you and you will be missed. My condolences goes out to the Bryant family and the families of the other passengers on board. IM SICK RIGHT NOW !"
Dwayne Wade: "Nooooooooooo God please No! Heroes come and go LEGENDS live forever‼️ #8 #24."
Khloe Kardashian: "This can't be real 💔💔💔💔 there's no way!!! My heart hurts. Please don't let this be True. I'm shaking 💔."
Bruno Mars: "Kobe was a real life super hero on that court & I'm sure he was one to his family. Sending love and prayers to them. This is heartbreaking."
Irving "Magic" Johnson: "As I try to write this post, my mind is racing. I'm in disbelief and have been crying all morning over this devastating news that Kobe and his young daughter, Gigi have passed away in a helicopter crash. Cookie and I are heartbroken."
Barack Obama: "Kobe was a legend on the court and just getting started in what would have been just as meaningful a second act. To lose Gianna is even more heartbreaking to us as parents. Michelle and I send love and prayers to Vanessa and the entire Bryant family on an unthinkable day."
Kanye West: "Kobe, We love you brother. We're praying for your family and appreciate the life you've lived and all the inspiration you gave."
Jennifer Lopez: "Vanessa, I pray for your strength and that God guides you each step of the way through this unimaginable heartbreak. To the other families who are suffering from this unthinkable tragedy, may God be with you all. Kobe you meant so much to so many and we will miss you forever. Thank you for your work ethic, your inspiration and your heart. #hero #legend #husband #father 😢🙏🏼💔."
T.I.: "Heartbreakingly painful to hear this. My family's hearts go out to Mrs. Bryant & their beautiful children. Life's too short man. Love hard on your children & family & live everyday like your last. Try to remind yourself to teat the people you love like you'll never see them again. You never know… Prayers up for the Bryants.💔"
Diddy: "please everyone pray for Vanessa and the family."
Kevin Hart: "This honestly doesn't make sense….I just saw you man. This hurts my heart. God please place your hands on his family and help guide them thru this unbearable time. We love you forever man…Legends never die!!!! #MambaMentality #RIP…. RIP to the other passengers as well as sending prayers to their families. 🙏🏾."
Nas: "We all love you. Glad I told you on this night."
Snoop Dogg: "Heaven only knows 🙏🏾😰. 🌹 prayers to the family from me and. @bosslady_ent."
Drake: "😤😔🥺 it can't be."
https://www.conwaymagic.com/wp-content/uploads/2022/08/conway-magic-logo-300x216.jpg
0
0
Gino
https://www.conwaymagic.com/wp-content/uploads/2022/08/conway-magic-logo-300x216.jpg
Gino
2020-01-27 06:30:42
2020-01-27 06:45:44
Remembering Kobe Bryant