The 3rd Annual Wild Corn Shindig! – April 5th and 6th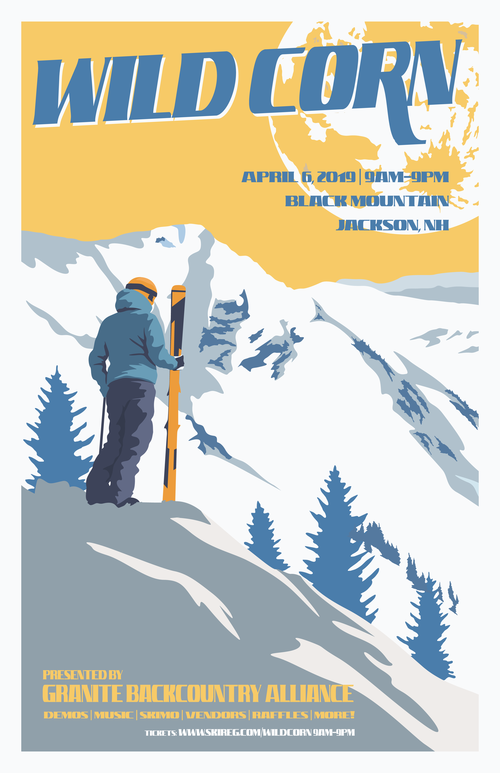 The Granite Backcountry Alliance is holding their 3rd Annual Wild Corn Backcountry Shindig Saturday, April 6th over at Black Mountain in Jackson. Tyler Ray and Andrew Drummond stopped by the Magic Morning Show today to tell Gino all about it as well as their Wild Pow Event this Friday! Listen below!
They'll be celebrating the backcountry season with a true spring time party all to benefit Granite Backcountry Alliance! Live Music, BBQ, speakers, games and more – a can't miss spring time event under the sun at Black!
Here's what makes this event so much fun:
– Skin & Ski at Black
– DPS SKIS SoundStage presents Moon Boot Lover, Rek'lis and Dagobah System
– Games (Human Jenga, Corn Hole, and more!)
– DEMOS
– Raffles & Silence Auction
– Cash Bar and BBQ
– Wild Corn SKIMO Race
– SHOVEL Race
– Kids Play Area
Schedule:
FRIDAY: 6-9pm | Tuckerman Brewery | Conway, NH
6pm: Social hour + Acoustic Music + Register for Wild Corn Shindig
7-8pm: Special Guest Forrest Shearer, POW Ambassador (Jones Snowboards, Patagonia, Black Diamond, Clif Bar)
8-9pm: Social Hour
SATURDAY: 9am – 9pm | Black Mountain | Jackson, NH
8am: AMC-NH Ski Tour: Pinkham Notch | Contact Nik @ granitebc.org to join tour.
8am: Friends of Tuckerman Ravine Tour | Contact Jake Risch at Jake @ tuckermanravine.org
9-4pm: DEMOS! (must register/obtain ticket prior to going on-mountain)
10am: YOGA! with Lindsay Mayock at Black Mountain 3rd Floor. Contact Laura at laura @ lkwdesignloft.com
11am: INJURY PREVENTION! with former US Ski Team member Hilary McCloy at Black Mountain 3rd floor. Contact Hilary at hilary.mccloy @ gmail.com
11am: Splitboard 201 with Weston Backcountry splitboard rep AJ Hunter & Granbassador of Split (GBA) Jeff Frigon
11am: Backcountry Skiing 101 with Northeast Mountaineering Corey Fitzgerald
11am: Lostbo Pub Open for BBQ & Beer
11am-6:30pm: Lostbo Pub open for all day BBQ & Beer at Pub
12pm-5pm: Lostbo Cabin (mid-mountain) open for BBQ & Beer
12pm: Kids Court Painting Station by Stay Wild Never Mild
1pm: DPS SoundStage presents Dagobah System
12pm: Mammut Beacon Park opens
1pm: Rescue Sled Demo with NH Backcountry Ski Patrol
2pm: Skin with POW Ambassador Forrest Shearer
2pm-5pm: Quarry Dog Shovel Race & Transition Zone
4pm: DPS soundStage presents REK'LIS
6-8pm: Vendor Tables (30 vendors)
5:00-6:30pm: Wild Corn Skimo Race (details coming soon)
6:30: Shovel Race Championships
7:00 – 9pm: DPS SoundStage presents MOON BOOT LOVER
8pm: Moon Boot Contest
8:30pm: Raffle/Silent Auction close & items available for pickup
9pm: Thanks for a Wild Night!
For more info go to GRANITEBC.ORG
https://www.conwaymagic.com/wp-content/uploads/2022/08/conway-magic-logo-300x216.jpg
0
0
Gino
https://www.conwaymagic.com/wp-content/uploads/2022/08/conway-magic-logo-300x216.jpg
Gino
2019-04-04 12:02:21
2019-04-04 12:02:21
The 3rd Annual Wild Corn Shindig! – April 5th and 6th