Gino's Favorite Interviews of 2020 – John Beede, Author of The Warrior Challenge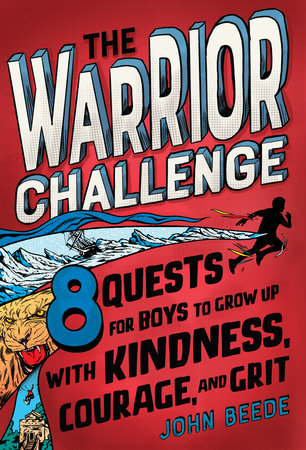 This interview is one of my favorite Interviews of the year. John Beede is a very fascinating guy and has written a great book for young boys and girls alike. I enjoyed my time immensely with John and hope to have him back on the show some time soon to learn more about him and his extraordinary life. Enjoy the interview below. This originally aired September 4th, 2020. – Gino
How do we raise "good sons"?
Being a tough guy and showing no emotion…traits we've long-considered masculine…are no longer the ideals we want for our boys.
As we try to raise caring, thoughtful, respectful young men, this book will lead the pack, teaching them to become humans of a higher standard who embrace their emotions and feelings.
Unlike any book out there, THE WARRIOR CHALLENGE recounts engrossing stories about courageous men across history, providing real-life examples of modern manhood, and teaching messages about compassion and authenticity.
Author, mountain climber, and youth speaker John Beede disproves the "boys will be boys" mentality and encourages boys to be, above all, good humans. And this book applies to girls too!
John Beede set out to write THE WARRIOR CHALLENGE: 8 Quests for Boys to Grow Up with Kindness, Courage, and Grit to shift our shared definition and understanding of manhood and masculinity. This is a revolutionary and must-have book for boys who want to embrace who they are and find their best path to becoming good men! This no-holds-barred, action- packed, illustrated guide teaches boys to accept their own vulnerability and trust their heads, hearts, and souls.
By undertaking "The Warrior Challenge," boys will learn a different kind of strength and what it means to be a man. Each chapter is accompanied by a comic book-style-artwork. Part of the challenge also is to ask boys to not take this journey alone, but to share it with either their parents, caretakers, teachers, or other role models in their lives. This book's combination of interactive storytelling, real-life stories, and challenges will teach boys to be empathetic, vulnerable, and authentically them.
John Beede joined Gino on the Magic Morning Show today to discuss the book a little deeper. Click below to listen…
Pick up your copy today – WHEREVER BOOKS ARE SOLD!
ABOUT THE AUTHOR: John Beede is a mountaineer, global adventurer, humanitarian, and keynote speaker. He has climbed the tallest mountain on all seven continents, including Mount Everest. He's also been struck by lightning, been attacked by a five-foot iguana, and gone swimming with great white sharks. His travels have taken him to more than seventy countries and he's survived every classification of natural disaster. Through it all, John's core message to the kids he speaks to and teaches is that we live by the strength of our morals and values, not our accomplishments. He has shared this message via motivational presentations and workshops to nearly one million live audience members in all fifty U.S. states and all across the world. He has given keynote speeches for national teen organizations including 4-H, FCCLA, FBLA, DECA, BPA, SkillsUSA, ScoutsUSA, FFA, Teen Institute, and the National Association of Student Councils. John is also the author of Climb On! Success Strategies for Teens and The Mini-Manual for Becoming Super Awesome. He is an Eagle Scout and he graduated with a bachelor's degree in mass communications from Wheaton College. John lives in Nevada. Find him online at www.climbonsuccess.com.
https://www.conwaymagic.com/wp-content/uploads/2022/08/conway-magic-logo-300x216.jpg
0
0
Gino
https://www.conwaymagic.com/wp-content/uploads/2022/08/conway-magic-logo-300x216.jpg
Gino
2020-12-28 08:18:50
2020-12-30 07:48:03
Gino's Favorite Interviews of 2020 – John Beede, Author of The Warrior Challenge